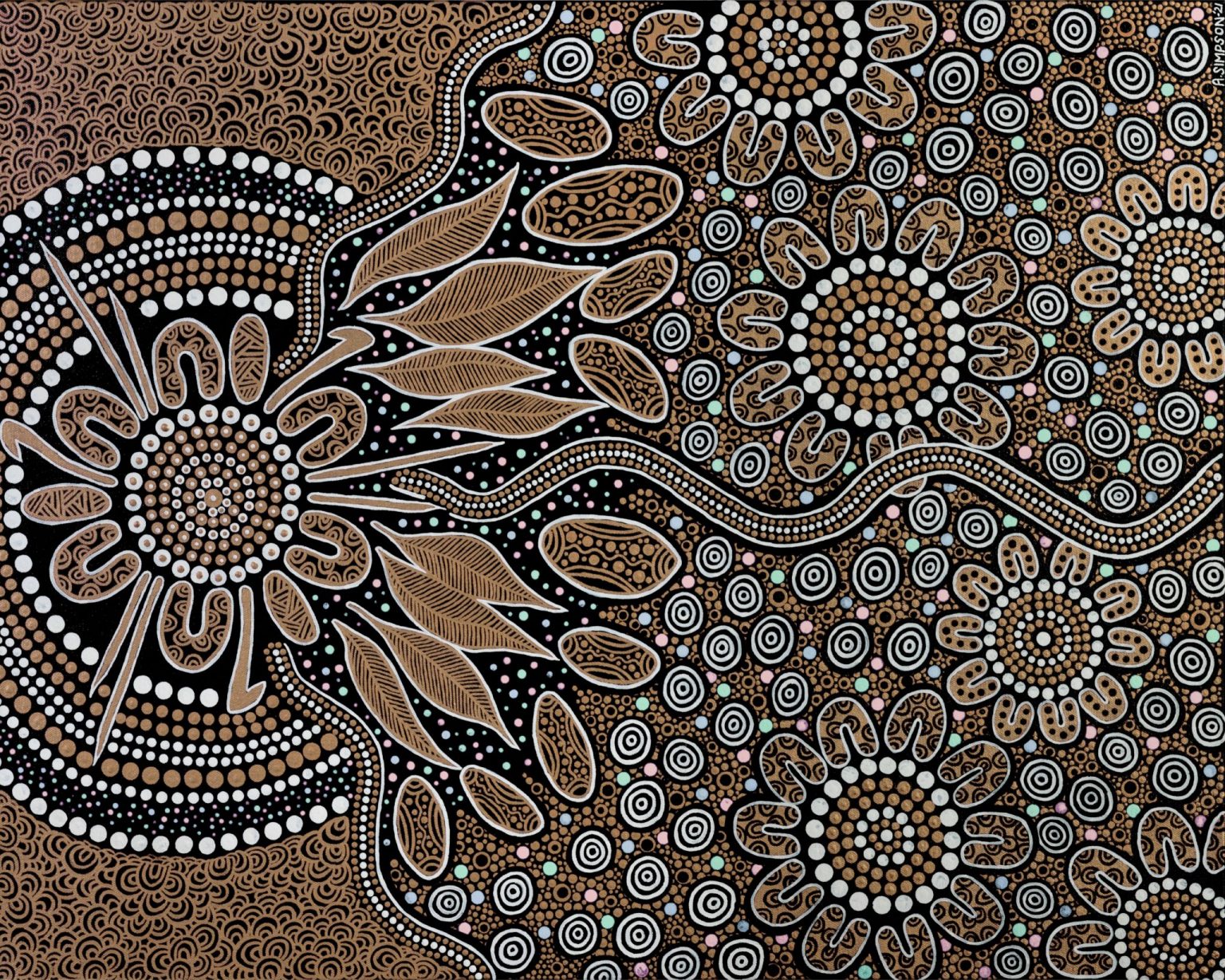 Growth & Optimism with Alison Simpson
This past November marked 20 years since the founding of our spirited, challenger firm. We have spent the last two decades supporting organisations and the leaders within to reach their full potential. To celebrate this milestone, we commissioned a unique artwork by Indigenous artist Alison Simpson to represent the impact we have had.
Representing the growth and transformation of leaders we have worked with, the image illustrates how their impact ripples across their organisations, communities and society more broadly.
Alison explains the thinking behind her painting. On the left-hand side there is a gathering of men and women. You can identify the gender by what tools lay next to them. The 'U' shape represents the person. The tools that signify women are the digging stick which women used to find food, particularly yams, and an oval shaped coolamon, which is a wooden dish used to carry food and babies. For men, the killer boomerang and spear lay next to them which they used for hunting food.
In this artwork, the men and women gathering represents Maximus and their people. Maximus is placed in the centre on the left-hand side of the canvas to signify that they see themselves as 'equal' to their clients, not above or below but side by side as partners.
The half circles that wrap around Maximus represent the ongoing impact they have and will continue to have with their clients.
The pastel-coloured dots represent knowledge which may start off small for the leader, but then grows larger throughout their journey and they then impart that knowledge to others around them – colleagues, family, friends or even strangers.
The three lines coming out from Maximus represent the different pathways that can lead a leader to success after their interactions and influence from Maximus.
The leaves represent being grounded in knowledge and personal growth through the leadership which Maximus has provided and imparted.
The coolamons represent the individual carrying the knowledge from Maximus into both their professional and personal worlds, imparting it to those around them.
The white circles represent the rippled effect. Empowerment and optimism that the imparted knowledge can have, not only to those who have participated in learnings from Maximus, but also those who have heard about the impact.
Alison Simpson 2021