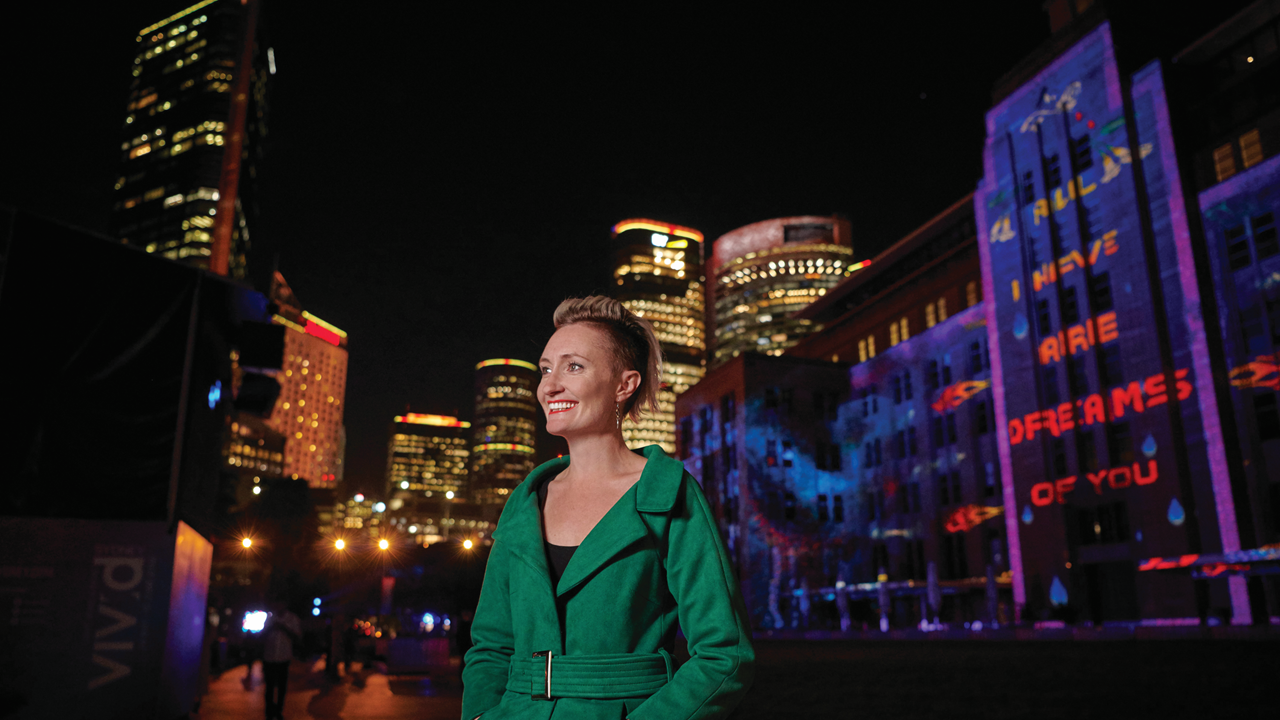 Leading Light
Sydney artist Lucy Keeler has an enormous role. Her appointment last year as the Light Walk curator – as part of the Vivid Sydney Festival – after several years working alongside Destination NSW (DNSW), has allowed her to tap into her artistic vision for the iconic outdoor winter festival, as well as her passion for leading and nurturing the next generation of artists in Australia.
Her purpose: to bring art outside the 'white cube,' and to inspire and to admire. "I'll always be ready to make an opportunity for someone with a great idea that they are passionate about, and that they are prepared to work hard to bring to fruition," she says. For Keeler, art is about community, it's about connecting with a wide audience, embracing technology and change – and learning, always learning.
M MAGAZINE: YOU'VE BEEN ONE OF VIVID SYDNEY'S CONTRIBUTING ARTISTS SINCE THE FESTIVAL BEGAN, AND RECENTLY TAKEN ARTISTIC DIRECTION OF THE LIGHT PROGRAM (VIVID SYDNEY HAS THREE PILLARS: LIGHT, MUSIC AND IDEAS) AS THE VIVID SYDNEY LIGHT CURATOR. HOW DO YOU DESCRIBE YOUR JOURNEY?
LUCY KEELER: My first job for Vivid Sydney was splicing, mounting and hole punching PIGI projector film for Brian Eno's '77 Million Paintings' on Sydney Opera House, for The Electric Canvas. I was in my early 20s and fell in love with architectural projection. There is something about the technical complexity of storytelling on a building, which struck me as a compelling nut to crack and an exciting new way to make art. Vivid Sydney is an extraordinary incubator for artists working with light.
MM: WITH SO MANY YEARS INVOLVED WITH DNSW, WHAT MOTIVATES YOU TO KEEP MOVING FORWARD? HOW HAVE YOU STAYED FOCUSSED, ENGAGED AND PASSIONATE THROUGHOUT EACH INSTALLATION OF VIVID SYDNEY?
LK: I am passionate about broadening perceptions in Australia around what is considered to be 'art'. Light art all around the world is bringing people into the streets to see and feel something together. Australia still has some way to go in embracing light-based practice as art, and considering those who make it, to be artists. Light speaks across all languages, ages and socio-economic divides, so what motivates me is taking art off white gallery walls and placing it outside in public spaces for all people. Art is for everyone and an artist is not always what you expect. If there's one thing that really motivates me, it's fostering artists from non-traditional and unlikely backgrounds (like mechatronics engineering or mathematics). It's why the Vivid Sydney Light Walk is such an inspiring project to curate, because we showcase such an array of incredible works from artists who come from so many different walks of life.
MM: AT MAXIMUS WE TALK ABOUT DISRUPTION WITHIN INDUSTRIES AND HOW IT CAN BRING ABOUT CHANGE IN A POSITIVE WAY. CAN YOU DISCUSS THE DISRUPTIVE – AND PROMISING – CHANGES YOU SEE OCCURRING WITHIN THE ARTS WORLD AND WHAT THAT LOOKS LIKE FOR UP-AND-COMING ARTISTS?
LK: Outdoor light and technology art is in an uncomfortable early stage of (non…) validation in the hallowed white cube of Australia's fine art world, but I say 'wake up'. The contextualisation of light-based practice within art history is quite simply in the post-contemporary present. Light belongs to all, and is experienced by every socioeconomic, racial group and age, equally. We have also seen a return of the traditional structured atelier system, by the nature of the collaborative, yet skill specialist, production of work within animation studios and light installation workshops. Contemporary western art throughout the 20th and early 21st century has seen the phenomenon of the 'solo artist' working alone in their studio, as standard professional practice. Light art is seeing the return of the assistant (or junior artist) learning their craft alongside senior or established artists, under a structured system of skills development.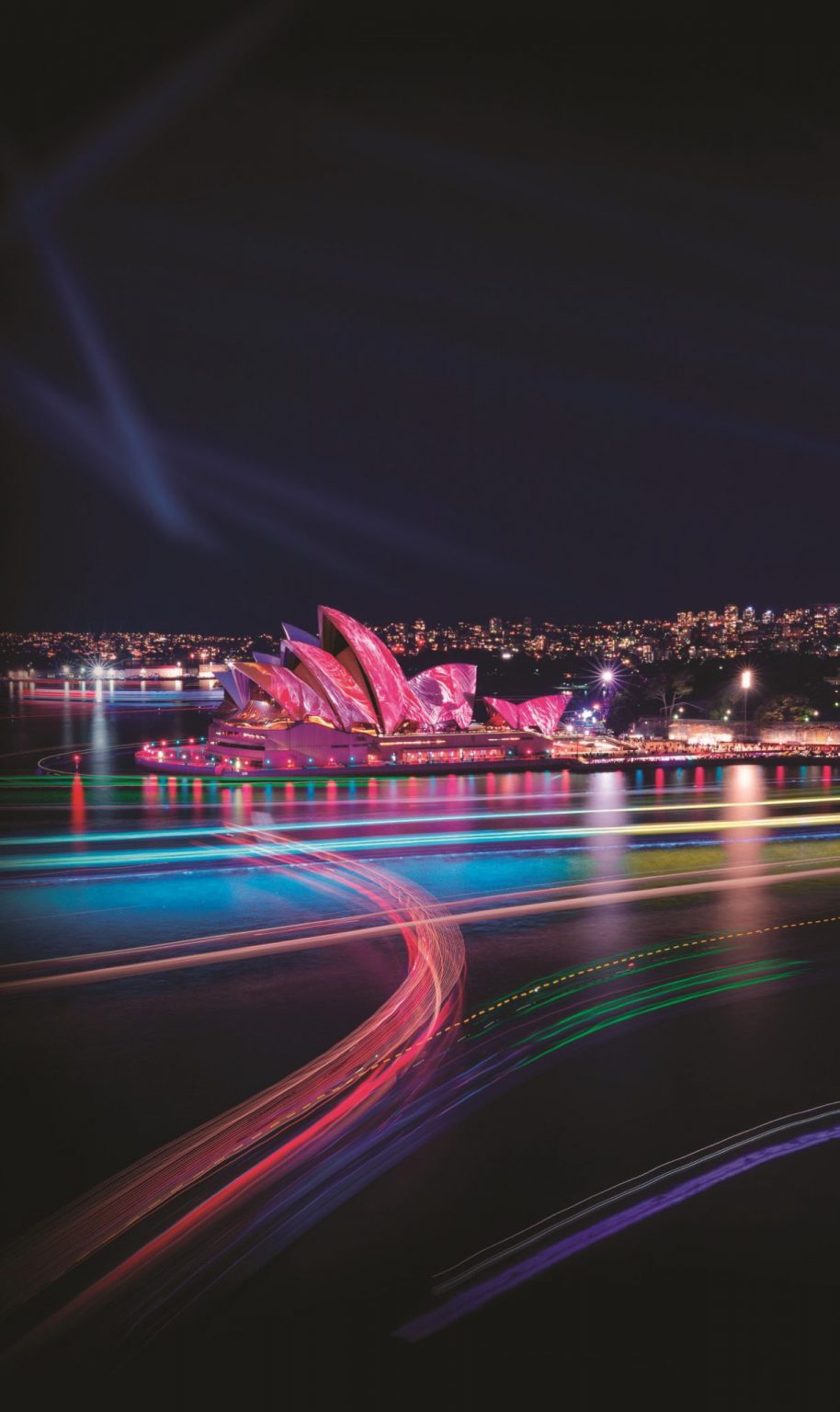 MM: GIVEN THE NEED TO BALANCE COMMERCIAL AND CULTURAL GOALS WITH THE LIGHT FESTIVAL, HOW HAS YOUR LEADERSHIP SHADOW SHAPED THE CULTURE AT VIVID SYDNEY?
LK: The culture at Vivid Sydney is one of work fast, do the work required to make good decisions, do it yesterday, and communicate effectively at all times. I love my job and feel a great sense of purpose in supporting and growing the artist community around the festival. I'm not interested in casting a leadership shadow. Not by myself. I walk toward the sun side-by-side with my team. Vivid Sydney is owned, managed and produced by DNSW, the state government's tourism and major events agency. Vivid Sydney has been led by the DNSW CEO Sandra Chipchase*, who is also executive producer of Vivid Sydney, and is delivered by a large team at DNSW who all contribute something vital to the success of the event. Our festival team needs key leaders who work from within the group (not from outside of it), who can laugh heartily, work extremely hard and appreciate the hard work of others around them.
MM: WHAT IS YOUR APPROACH TO LEADERSHIP OR LEARNINGS?
LK: I enjoy pushing and evolving things. If there's a better way to do something, or a more effective way to display or experience a design then count me in, I'm happy to do the extra work to make it happen.
MM: WHAT DO YOU CONSIDER SUCCESS TO LOOK OR FEEL LIKE?
LK: The best part of my job is joining an audience, or walking around the light walk precinct that I've poured months of my soul into. Anonymity is a powerful way to get feedback because raw honesty is what you're going to get every time! Through the years I've heard it all – the good, the bad and the downright soul destroying, but I've also seen people cry with happiness, parents share a brief moment of wonder with their child, and even a few marriage proposals. The feeling for me, of real success, is quiet, anonymous and deeply satisfying.
MM: RECENTLY YOU SPOKE TO GUESTS AT MAXIMUS' "THE REAL. THE CURIOUS. THE RESOLUTE" EVENT ABOUT THE SUCCESSES, CHALLENGES AND PLANNING THAT GOES INTO BRINGING THE VIVID SYDNEY LIGHT WALK TO FRUITION. HOW WILL YOU CONTINUE TO INNOVATE FOR VIVID SYDNEY 2020?
LK: I love those words. The Real. The Curious. The Resolute. Because you can't be any one of those things without the others. I firmly believe that artists can, and should, earn a respectable living from their work. A creative ecosystem is continuing to grow year-on-year around the festival which sees more and more artists, technicians, architects, academics, mechatronics and electrical engineers join Vivid Sydney's unique artist community. As a result, Australia is currently producing some of the most sought-after light artists in the world. I don't care if you call yourself an artist or not. I'm going to show you that you are one.
[FACT]

Keeler's Vivid Sydney by numbers:

11 Years at Vivid

319 light sculptures

15 Project Animations

19 Industry Awards
A BRIGHT FUTURE FOR WOMEN
In 2019, Destination NSW launched 'Vivid School', a vocational education program for teenagers, which gave an opportunity for young people to meet the artists and technicians behind the projections and light installations in the festival program. The first session to be programmed and also to book out was 'Delicate Pixel Work (Girls Putting the 'A' in STEAM)'. "I'm very proud to be actively advocating for it," says Keeler. "And as the first female Light Walk curator, also be a part of an important change that's under way.
This article was originally published in the 4th edition of M Magazine, an exclusive print magazine aimed at inspiring and driving change through Australia's executives and heads of HR.